Weddings and Events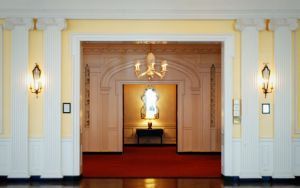 The Pendennis offers an elegant setting for business and social occasions of every description. Our service team takes care of our membership and guests with gracious hospitality.
The Grand Ballroom is handsomely decorated and lends itself to both formal entertaining and professional association. And of course, the Club hosts many special events during the year that cater to the enjoyment of our members.
The Pendennis offers private dining and meeting rooms to accommodate any occasion. Our members enjoy a wide range of décor. A family gathering is welcomed in the Early American Room or a formal champagne dinner is perfectly suited for the Independence Room.
If you require an intimate dinner or a grand affair for 500, The Pendennis stands ready to accommodate your event. And for the first Saturday in May, all bets are on that everyone will have the most enjoyable time at the club.
We offer full catering services. Our catering sales team will assist in planning your event from inception and will see you through to its conclusion. We can assist in details from choosing from our Chef's wonderful menu to the floral arrangements.