Clubhouse History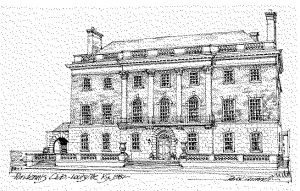 A score of articles appeared in The Courier-Journal, from October 27, 1927 to December 11, 1928, documenting the construction of the Club's current home, which occurred under the leadership of Club President Owsley Brown. Designed to be "one of the finest club buildings in the country" and "entirely fireproof throughout," the one-million dollar project commenced in 1927. Nevin, who would serve as the Club's President in 1939-1941, "met with the directors and helped plan the building," and he emphasized to a newspaper reporter "that the very best material and equipment will go into the structure." Built by local contractor Wortham Construction, this "work of genius" was "almost in its entirety the product of Louisville craftsmanship," and it was a sign of Louisville's growth and prosperity, according to the newspaper.
On Monday, Dec. 10, 1928, the new clubhouse was unveiled. The newspaper noted that members would feel at home coming up the front steps and terrace, which were features reproduced from the original clubhouse. The "simplicity of the doorway is an added delight." The entry and lobby, with its black and white marble floor, are a "meticulous reproduction of parts of the American wing in the Metropolitan Museum." "Finished in natural walnut," the library was then and still is "carpeted with . . . warmth-giving red." The Billiard Room is also of "natural walnut" and, with the Grill Room, has a teak wood floor. The latter room contains "pillars" and pilasters made of black Belgian marble. Nevin later told John Johnson that the first floor generally followed the same floor plan as the original clubhouse–just on a much larger scale.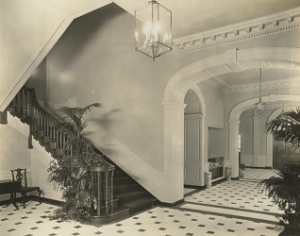 The Courier-Journal also reported that members would find the main staircase "puzzlingly familiar," as it was a reproduction of the one in the original clubhouse. Off the "commodious hall," in the Main Dining Room, are chandeliers that are "faithful reproductions of those in the Treasury House, York, England." The second floor's private dining rooms were, "according to their creators," the "finest" set of such rooms in America. The walls of both the Independence and Hindustan Rooms are decorated with "Zuber paper, hand blocked, an import from Alsace-Lorraine." All of the early American reproduction furniture in these rooms was made of cherry or mahogany. On the third floor is the "Georgian ballroom" with its crystal chandeliers and oak floor. Interestingly, the newspaper noted that the athletic area contained two handball–rather than squash–courts. All totaled, the current clubhouse has 78,346 square feet under roof including 58,760 square feet of finished space. With foundational walls over six feet thick, the building was designed to be able to support at least two additional stories.
The clubhouse is still a remarkable structure in so many ways–whether measured architecturally, by size, or construction. There is no club building in Kentucky that can rival its architectural splendor, and it can hold its own with the grand city club buildings in London and New York. In 2003, it was officially listed on the National Register of Historic Places. – Bill Carrell II